Dongguan Mingyi Mold Parts Co.,Ltd.
Name:Michelle Huang
Department:Sales Department
Position:Sales Manager
E-Mail:sales@dgcarbide.com
TEL:+86 769 22186767
Address:No.30 Weihoudi RD,Yangkengtang Administration Region,Dalang Town,Dongguan City ,Guangdong Province
Standard Dayton ISO Yellow Green Blue Die Mold Coil Spring, Compression Spring
Standard Dayton ISO Yellow Green Blue Die Mold Coil Spring, Compression Spring
Model NO. Normalien Standard Coil Spring,Meusburger Standard Coil Spring
Price:USD 2.50-15.00 / piece
Minimum order quantity:1 piece
Accept Min order:Yes
Supply Ability:10000 piece / Month
Country of Origin:Humen or Guangzhou or Shenzhen
Product Description
Place of Origin:CN;GUA
Product Material:metal
Model Number:Normalien Standard Coil Spring,Meusburger Standard Coil Spring
Brand Name: MY
Shaping Mode:Punching Mold
Product:mold coil spring
production standard:Dayton,Lane,DIN,ISO,MISUMI,EDM,FIBRO,MOELLER,HASCO,ect
hardness:45-68 HRC,or as per need
closest tolerance: + - 0.002mm
marking: up to requirements
Polishness: close to Ra0.2
ISO certificate:ISO 9001
material:Carbide,ASP23,Vanadis,CPMRTXM4,SKD11,SKD61,HSS,A2,M2,D2SUJ2,S45C,ect
service: made-to-order
surface treatment:TiCN,TiN, Aitain,Ticrn,Nitrided,Black oxygened.etc available
Standard Dayton ISO Yellow Green Blue Die Mold Coil Spring, Compression Spring Coil Springs Component Stronger Hardness, Abrasion Resistant, Corrosion Resistant. Choose right compression of die spring or will distortion and reduce service life. 1. Can't have gap between upper plate and die spring or will distortion and rupture. 2. When free length of die spring is 4 times to outer diameter, please use guide rod shield to protect service life. 3. Can't use it for anything except compression. 4. Please use it on the mould. 5. When the lower plate parallelism is not well, high stress will happen and cause transformation and rupture. 6. It must be have some preloading when put die spring on the mould. Preventing mould Bear impact load and cause fatigue damage. Material60Si2MnA,60Si2CrA,60Si2CrV,etcWire diameter5mm ~80mmFree hight10mm ~1188mmhardness42HRC~52HRCDirection of coilsRight, leftTotal coilsDeted By Drawing / Data.Load Bearing CapacityYellow( Lightest Load )        Blue(Light Load )     Red(Medium Load )Green(Heavy Load)       Brown(EX-Heavy Load)ApplicationExcavator, digger machine, car, train, shakeout machine,Steel Plants,Railway Bogies & Wagons,,etc.Painting and CoatingAmino paint,Synthetic Enamel Paint, Powder Coating, Phosphate, Zinc Coating etc.Coloryellow  blue   red    green   BrownProduction methodHot formed, cold formedNoteThe materials and specifications can be decided by the customers.  Product show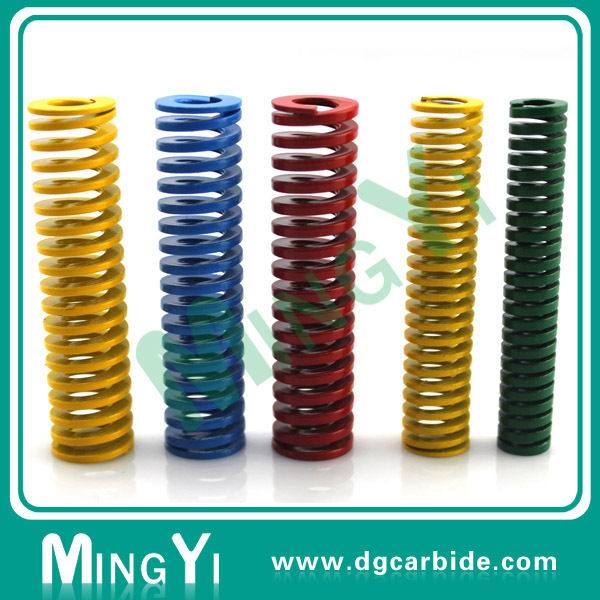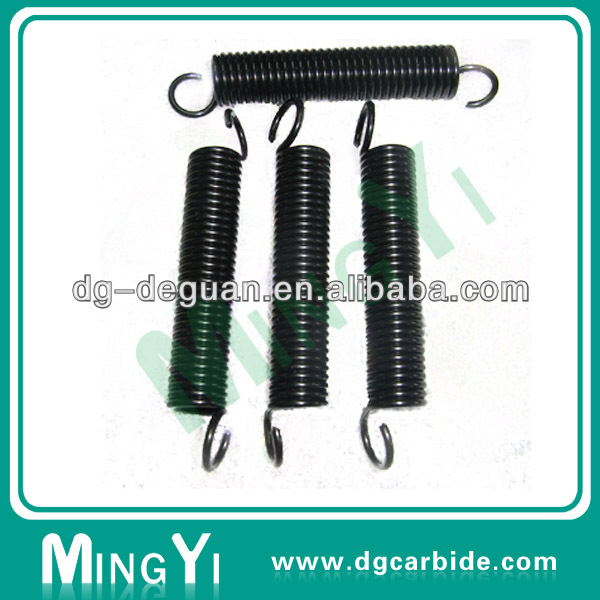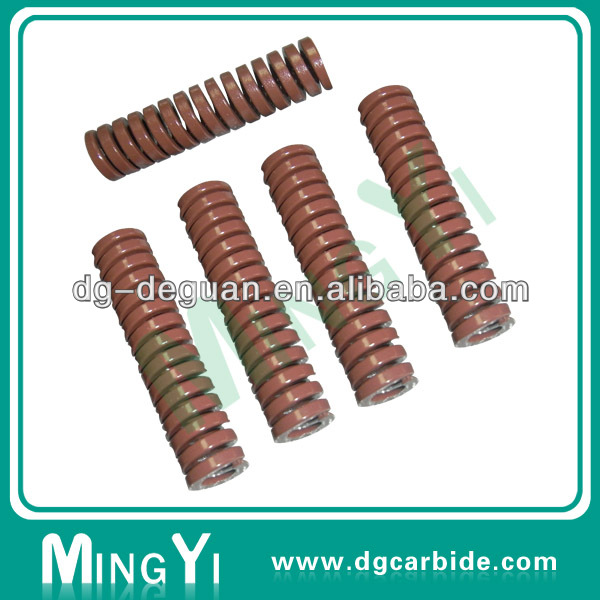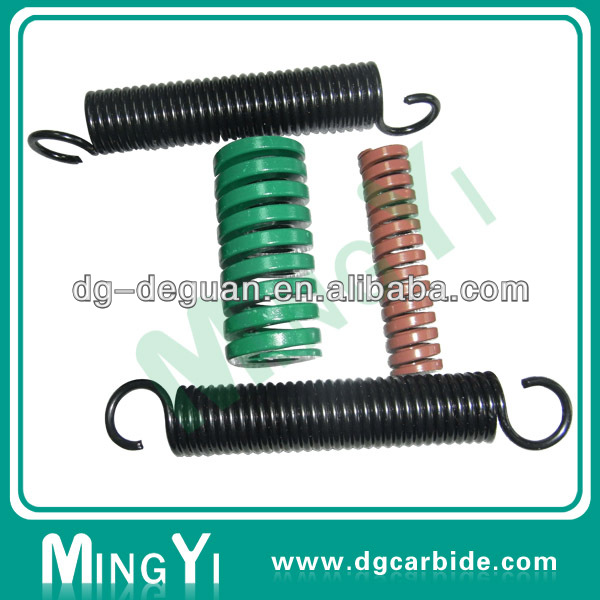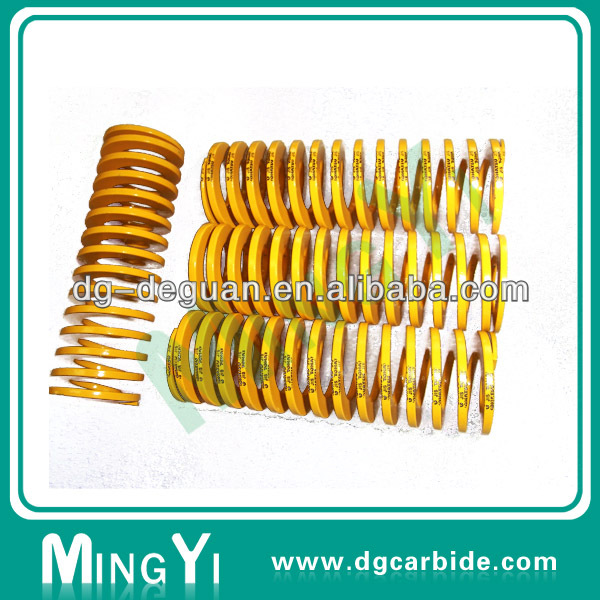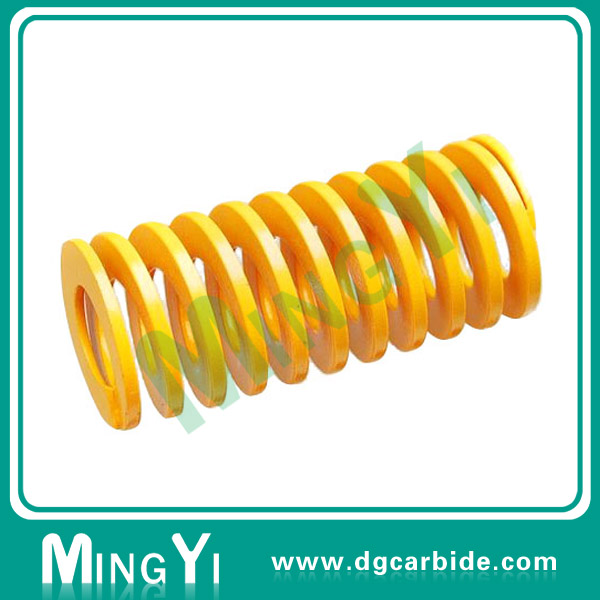 Our advantages: 1.Main procuts : spcialiazed in producing Punches,Ejector Pins and Sleeves,Die buttons,Bushes,Ejector Punches,Drill Roads ect. and our company is a leading manufacturer and with more than 8 years of professional experience 2.Customized service: custonmized service is available here 3.Competitive price: based on reasonable calculation, our price is always competitive which can support customers at the first round of competition 4.Consistent quality control: parts are made by our experienced staffs that can control the parts to exact dimensions in the process of production. On the other hand, our experienced QCs inspect all the parts thoroughly which can ensure 100% high quality products sent to you! 5. Quick delivery time: it depends on order Qty and index of process, usually we can ensure you 5days delivery  6. Made-to-order service available:except standard parts like in DIN, ISO, DAYTON, LANE, MISUMI, MOLLER,HASCO,DEM etc,and none-standards, also we can make special parts which depends on customers detailed requirements! Our service:   1,supply oem order,independent Q.C department ,3 times of quality checking,2.100% percent of pass before shipping 3. Accept the return of or replace the commodity with quality problems Other products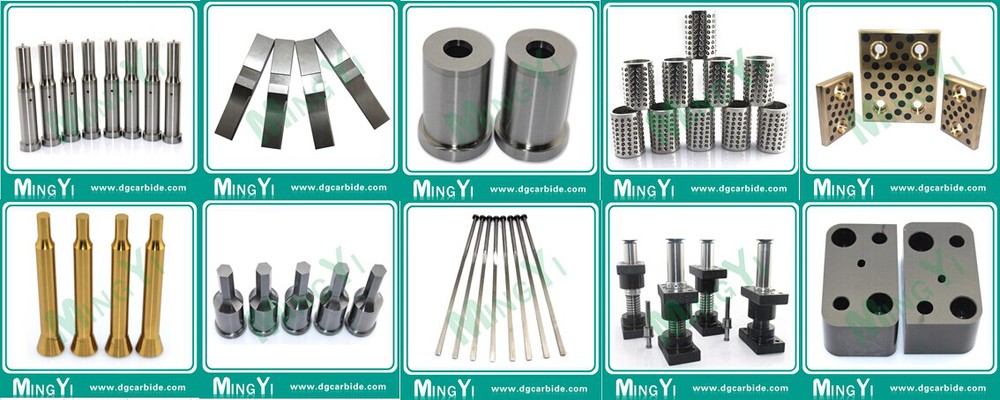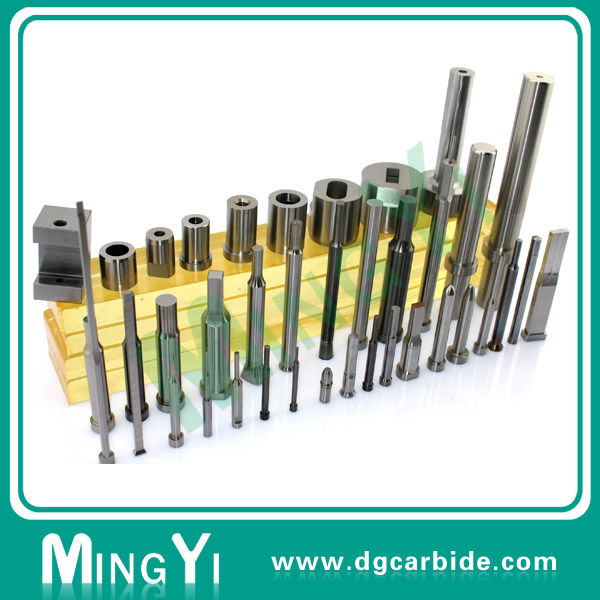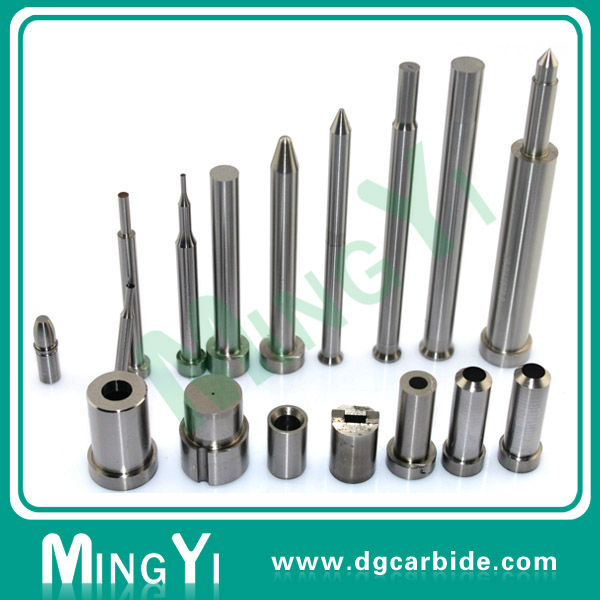 Process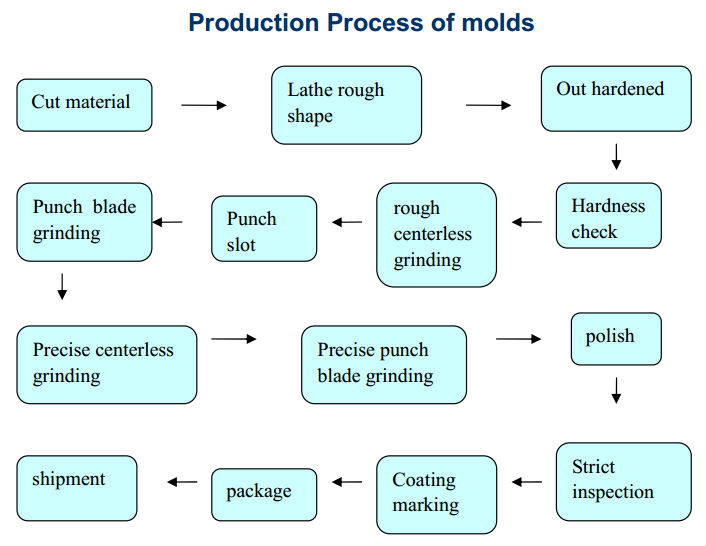 Factory equipments&Certification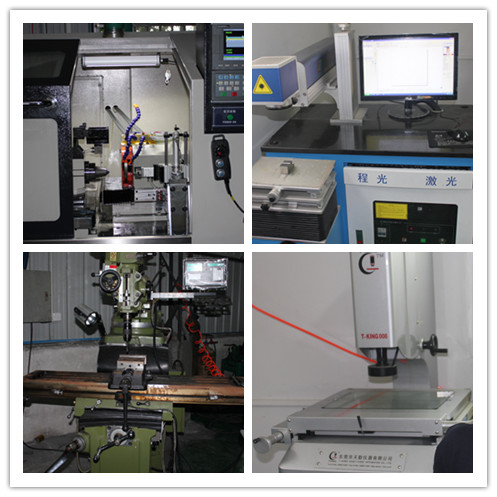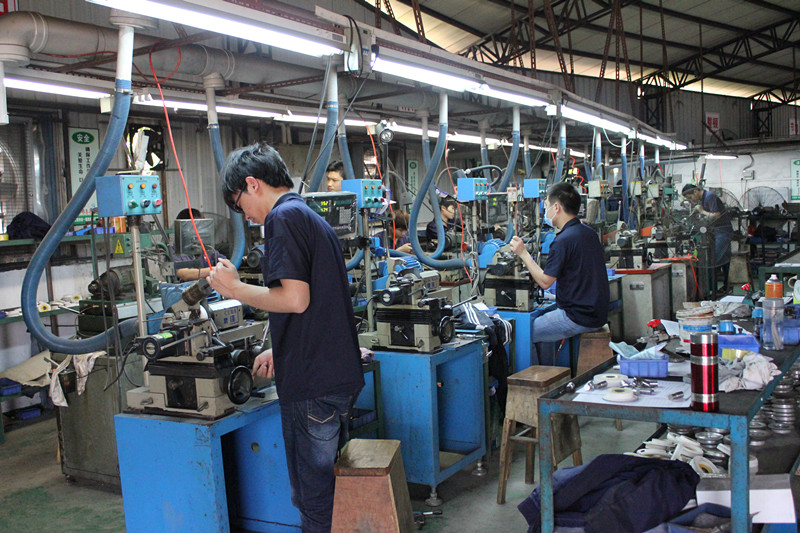 Please specify the details of die mold making as follows when you inquiry 1,The shape of products you need.2,The material you want to use or the material of products you produced3,The products size ,for example:M2.0,D 14*25.4,The surface coating type ,for example:Tin,Ticn5,It is the best to provide your own drawings.   dear friends ,if you are interested in our products please contact me freely!